Gone are the days of struggling to find time to drop off and pick up your laundry and dry cleaning. With our brand new free pickup and delivery service, all you have to do is schedule a pickup, and our professional team will take care of the rest.
We understand that life can be hectic, and finding time to take care of your laundry and dry cleaning can be a hassle. That's why we are excited to offer this service to make your life a little bit easier. With our free pickup and delivery service, you won't have to worry about lugging heavy loads to and from the store or dealing with the hassle of finding a parking spot..
Our team of experts will come to your doorstep to pick up your dirty clothes, and then take them to our state-of-the-art facility to be cleaned and pressed. We take pride in our attention to detail and use the latest technology and techniques to ensure that your clothes come back to you looking fresh and new
Free Pickup & Delivery
Don't wait any longer to experience the convenience of our free pickup and delivery service. Schedule your pickup today and let us take care of the rest. Trust us, you won't regret it!"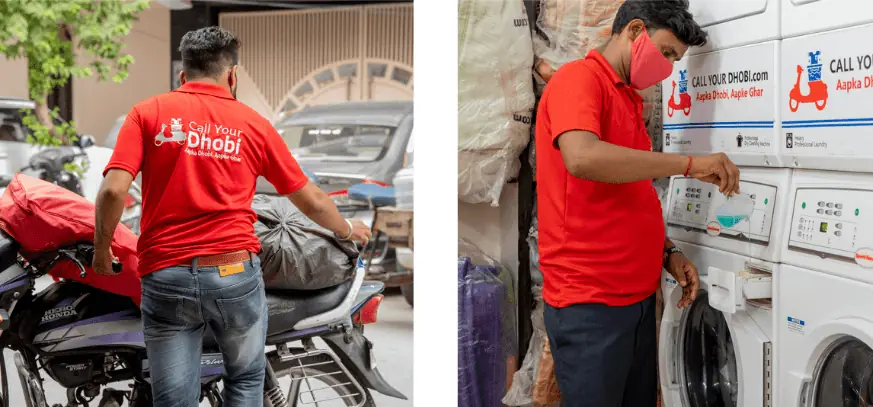 With state-of-the-art technology and eco-friendly solutions, Call Your Dhobi is leading the way in providing high-quality, convenient, and sustainable laundry services. From pickup and delivery to special care for delicate fabrics, Call Your Dhobi offers a full range of services to meet all of your laundry needs.
Leading the way in India with Technology-Led Laundry Services - Call Your Dhobi
And, as India's first technology-led laundry service, we are proud to bring new and innovative solutions to their customers. Whether you're a busy family or a busy professional, Call Your Dhobi is the perfect solution for keeping your wardrobe looking like new without any hassle.