Starting a laundry business can be a lucrative venture, especially in a bustling metropolitan area like Delhi NCR. With the increasing demands of modern life, people often find themselves short on time to do their laundry. This creates an excellent opportunity for entrepreneurs to step in and provide convenient and reliable laundry services. Among the many laundry businesses in the region, one franchise stands out as the best: Call Your Dhobi. we will explore the reasons why Call Your Dhobi is the preferred choice for those looking to invest in a laundry franchise in Delhi NCR.
Established Brand and Reputation:
One of the crucial factors that set Call Your Dhobi apart is its established brand and reputation in the laundry industry. With more than 4 years of experience and a proven track record of delivering exceptional services, Call Your Dhobi has gained the trust of numerous customers in Delhi NCR i.e. Delhi, Faridabad, Noida, Ghaziabad & Gurgaon. The brand's reputation is built on reliability, quality, and customer satisfaction, making it a preferred choice for people seeking laundry solutions.
Innovative Technology and Processes:
Call Your Dhobi stays ahead of the competition by incorporating innovative technology and streamlined processes into its operations. They utilize state-of-the-art laundry equipment and cutting-edge software systems to optimize efficiency and deliver superior results. From automated order management systems to efficient inventory control, Call Your Dhobi ensures that every aspect of their business is well-organized and synchronized.
Convenient Pickup and Delivery Services:
One of the key features that make Call Your Dhobi the best laundry business franchise in Delhi NCR is its convenient pickup and delivery services. Understanding the time constraints of modern customers, Call Your Dhobi offers doorstep laundry solutions. Customers can schedule pickups and deliveries as per their convenience, eliminating the hassle of visiting a physical laundry store. This customer-centric approach has been well-received and has contributed to the franchise's success. Gone are the days of struggling to find time to drop off and pick up your laundry and dry cleaning. With our brand new free pickup and delivery service, all you have to do is schedule a pickup, and our professional team will take care of the rest.
Trained and Skilled Workforce:
Call Your Dhobi prides itself on having a trained and skilled workforce. We invest in our staff, providing comprehensive training programs to ensure that each team member is equipped with the necessary skills and knowledge to handle various types of laundry & drycleaning effectively. This commitment to excellence translates into top-notch services and customer satisfaction.
Flexible Franchise Options and Support:
Call Your Dhobi offers flexible franchise options, making it accessible to aspiring entrepreneurs with different investment capabilities. The franchise model provides comprehensive support to franchisees, including guidance in setting up the laundry facility, assistance in recruitment, customer care support, marketing support, and ongoing operational assistance. The franchisees benefit from the established brand reputation, proven business model, and continuous support from the franchisor.
We understand that life can be hectic, and finding time to take care of your laundry and dry cleaning can be a hassle. That's why we are excited to offer this service to make your life a little bit easier. With our free pickup and delivery service, you won't have to worry about lugging heavy loads to and from the store or dealing with the hassle of finding a parking spot.
Our team of experts will come to your doorstep to pick up your dirty clothes, and then take them to our state-of-the-art facility to be cleaned and pressed. We take pride in our attention to detail and use the latest technology and techniques to ensure that your clothes come back to you looking fresh and new
Free Pickup & Delivery
Don't wait any longer to experience the convenience of our free pickup and delivery service. Schedule your pickup today and let us take care of the rest. Trust us, you won't regret it!"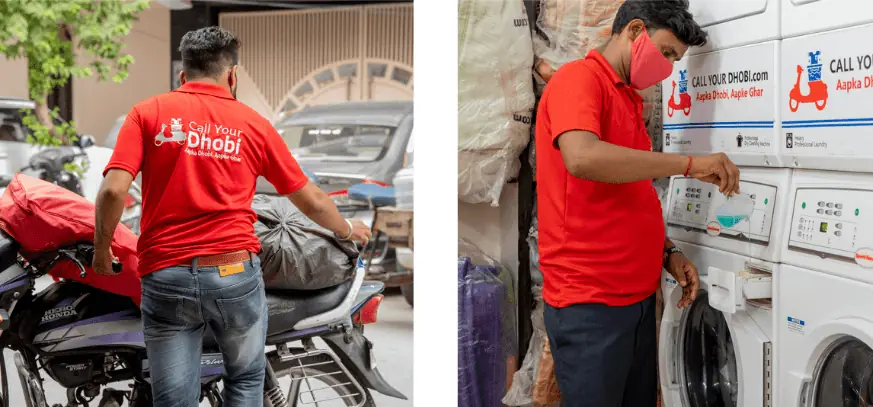 With state-of-the-art technology and eco-friendly solutions, Call Your Dhobi is leading the way in providing high-quality, convenient, and sustainable laundry services. From pickup and delivery to special care for delicate fabrics, Call Your Dhobi offers a full range of services to meet all of your laundry needs.
Leading the way in India with Technology-Led Laundry Services - Call Your Dhobi
And, as India's first technology-led laundry service, we are proud to bring new and innovative solutions to their customers. Whether you're a busy family or a busy professional, Call Your Dhobi is the perfect solution for keeping your wardrobe looking like new without any hassle.